When you pay for something at the store, it has become a relief for consumers, and the merchant, when the payment terminal supports contactless payments. Contactless payments are faster and cleaner. Both of these are critical to providing safer payments in a COVID world.
From a CBC news article titled "What's the germiest surface in a supermarket? You might be surprised", they found that "the surface with the most bacteria in stores were the PIN pads used during checkout." 
Almost everyone is paying with credit cards or debit cards, which means almost everyone is touching the PIN pad on the payment terminal if there are no contactless payments. This is why merchants are moving to contactless payments.
What is a contactless payment?
A contactless payment is the ability to hold your credit card or mobile phone close to a payment terminal to make a payment transaction. A contactless payment can be either a credit card, Interac card, debit card, or any device such as a mobile phone or smart watch. It uses a technology called NFC or near field communication.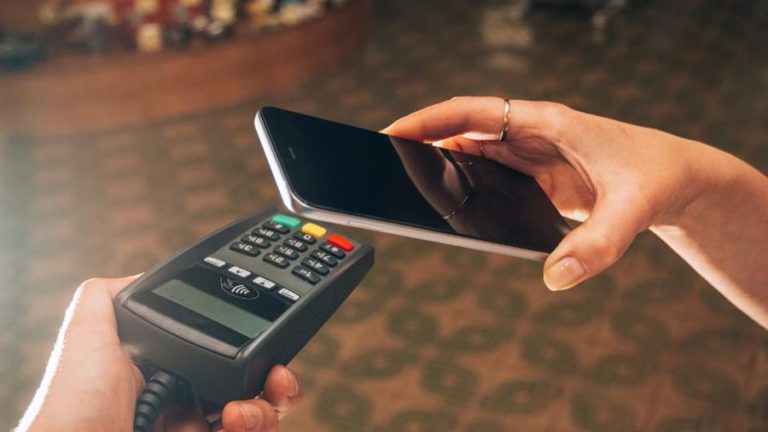 The benefits of contactless payments
There are huge benefits of contactless payments. The benefits of contactless payments revolve around speed, safety & security, and convenience.
Speed of contactless payments: they are simply faster
Contactless payments are all about tap-and-go. There's no need to swipe a card, sign a receipt, or enter a PIN. It is faster for the consumer and the merchant. A contactless payment reduces the transaction time by more than half. This also makes the lines at storefronts shorter.
Contactless payments provide more s

afety and security
In a COVID world, removing the need for every consumer to touch a payment terminal PIN pad is much safer. In addition, having consumers spend less time in a lineup is safer. These help reduce the possible transmission of bacteria making is safer for consumers and merchant.
From a security standpoint, contactless payments are EMV compliant. EMV transactions are more secure from a payment processing perspective. It's much safer than the traditional way of swiping a credit card, which is not EMV compliant. That's one reason why the interchange fees are lower on EMV compliant transactions than swipe transaction.
The convenience of contactless payments
Definitely faster is more convenient, but what we're talking about here is that consumers can use their mobile phones or credit card. That's convenient. If you forget your wallet, you can still pay. Just pull out your mobile phone. In a recent survey by Entrust Datacard, it was found that 75% of consumers prefer contactless payments.
What is the limit for contactless payment?
There is a limitation of contactless payments. Realistically, it's the one downfall. There is a limit to how much a transaction can be. It used to be limited to a $100 transaction, which is pretty low. That has changed. Now it's $250, but this can also vary depending on the cardholder's bank. The trend is that the limit of contactless payment transaction sizes will go up.
This limitation does impact some businesses. The limit is generally fine for restaurants, most retailers, and most service businesses. The problem is with businesses that have large transaction sizes, but the limit will increase over time.
How to get contactless payments and what are the costs?
Many new payment terminals today support contactless payments. There is a monthly cost that you pay for any payment terminal, but the monthly cost should not go up, at least not by much from your existing payment processor.
Clearly Payments carries the best credit card terminals and POS systems that support contactless payments. Our mission is to lower the cost of payment processing forever, so switching to Clearly Payments will save you money. The installation is very simple where you essentially plug it in and start transacting with contactless payments.
Get the best
contactless payment system

today at the lowest cost.