Credit card machines have been around since around 1960. They started as credit card imprinters and moved to magnetic stripes in the 1970s. They've evolved significantly over the past 60+ years and have become very common and reliable for payments. Payment terminals are used by millions of businesses around the world. They are mission critical technology components for small business and enterprises alike.
Types of credit card machines
Credit card machines are generally thought of as the traditional hardware machines you see in stores.  However, credit card machines can be hardware or software payment terminals and they can also take on other forms such as mobile payments.
Hardware payment terminals
Hardware payment terminals are the physical credit card machines you commonly see in stores and offices. That is the focus of this article. These payment terminals facilitate communication between the credit card and the banks, verifying the credit card's balance and security status. All this communication occurs in seconds using your payment processor. Ingenico and Verifone are two very popular manufacturers of credit card machines.
What if your business only accepts mail or telephone orders? You won't be able to physically swipe or insert your customers' credit cards. In most cases where you're taking remote payments, we recommend that you avoid the added expense of a countertop terminal and use a virtual terminal instead. This is software that turns your computer into a credit card terminal and allows you to manually enter credit card data and submit it for payment processing.
Mobile credit card reader
Mobile phones have become very powerful. For more casual payment processing, you can turn your mobile phone into a credit card machine for mobile payment processing. These are simple, lightweight, and reuse existing hardware you already own.
Payment methods for credit card machines
There are numerous ways that credit card machines takes payments. Figuring out the best credit card machine needs to take into account the types of payments you want to take. It is important to note that the way you accept credit cards can have an impact on your interchange rates, which are the wholesale costs for credit card transactions.
 Swiping is one of the main ways to take payments with credit card machines. However, swiping is starting to lose favour over more secure methods such as chip-and-pin and tap. Magnetic stripes on credit cards are used to store cardholder data, and the magstripe would be read by swiping the card using a credit card machine. 
 Chip-and-Pin is an EMV (Eurocard, Mastercard, and Visa) compliant method. EMV is a newer standard that provides higher levels of fraud protection. Chip-and-pin is the method where a credit card holder inserts their card into the machine and enters a pin. The chip in a credit card stores additional data and offers more security against fraud. Most new credit card machines on the market today include both chip-and-pin and magstripe capability.
 Contactless (tap-and-go) is a technology where you can tap your credit card or mobile phone against the credit card machine. For these types of transactions, a credit card, smartphone, or smartwatch with an NFC (near field communication) transmitter sends the card holder data to the credit card machine wirelessly. This supports transactions such as Apple Pay and Google Pay. Contactless methods are also EMV compatible. One thing to keep in mind is that contactless payments frequently have transaction size limits, commonly $100 or $250, depending on the credit card used.
Keyed entry is another way you can take credit card payments. This is typically done when you're taking a customer's credit card number over the phone or email, then manually entering the credit card information into the credit card machine. 
Functionality options for credit card machines
The connectivity will be the biggest differentiator for credit card machines. Credit card machines can connect through:
A wireless company similar to a mobile phone so you can roam anywhere, or
Your wifi network so you can roam anywhere within your facility or office, or 
Your wired internet (ethernet cable), so the credit card machine is stationary at a desk or counter.
The way you want to engage with your customers with your checkout experience determines the connectivity you want. 
Most credit card machines will have a built in printer. The primary option you may want is the ability to email receipts. Over time, all payment terminals will support email receipts, however right now only a few do.
Integrating credit card machines into your software
Some merchants have their own point-of-sale system or software platform. When you want to integrate a credit card machine into the software, you need to ensure the credit card machine you choose supports integrations. This is an area that Clearly Payments specializes in.
Pricing and fees for credit card machines
You can purchase, rent, or lease credit card machines. Our recommendation is you rent them. If you rent one and it breaks or you want to upgrade, a new credit card machine is sent to you. If you own it or lease it, you will have to deal with fixes and upgrades yourself. Owning it could make sense if you're certain you'll be happy with the credit card machine for 4 or more years.
We've seen credit card machines rented for up to $100 per month. That's ridiculous. You should be paying anywhere from $12 to $40 per month, depending on the credit card machine, your options, and most importantly the markup from your credit card processor. Overall, if you are paying below $30 per month with a credit card machine that supports all the payment methods above, you're doing alright.
Our goal is to offer the lowest cost payment processing and credit card machines. That's our mission from the beginning. We'd be happy to walk you through your existing statement to see how much you can save. Get in contact with us now for that.
Avoid leases or leasing a credit card machine
Credit card machine leasing has been around for a long time, but it's no longer practical to lease equipment. Hardware prices have dropped significantly due to increased competition and online payments. Most payment processors who offer leasing will sign you with a long term contract. This locks you in as a merchant. If your needs ever change, you will have to pay to get out of your lease. This has been a difficult situation for many merchants. This is one reason why Clearly Payments doesn't offer leases: it locks merchants into contracts.
Recommended credit card machines
There are numerous credit card machines available on the market. The credit card machines that we recommend are from Ingenico. They are secure, reliable, flexible, and simply work. We have worked with both Verifone and Ingenico, which are both very credible companies.  We have found that merchants have been most satisfied with Ingenico. When it comes down to it, there are two particular models that we recommend: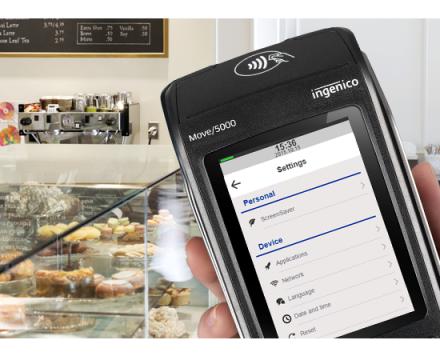 The Ingenico Move 5000 gives you full mobility with wireless connectivity. If you need mobility around your facility or wish to go onsite to your customers, go for the Ingenico Move 5000. We have found that merchants think the Ingenico terminals are fast and reliable.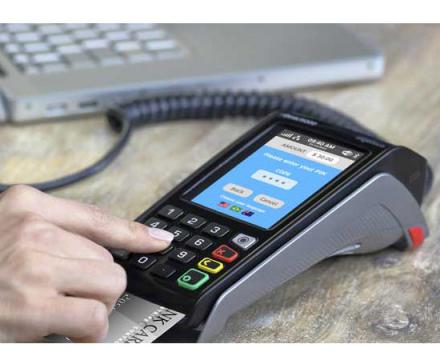 The Ingenico Desk 5000 is a standard workhorse terminal. You will need to plug in the base to your ethernet cable. Having a hardwired connectivity ensures you will always have service. If you don't need mobility, go for the Ingenico Desk 5000.
Get the best credit card machines at the lowest prices today.