Mobile payment processing that simply works
Clearly Payments mobile product, called Converge, sets you up with either a mobile swiper or chip-and-pin device. Both are fast and secure to turn your phone into a credit card terminal. They both support tap to pay, that means you can accept Apple Pay, Android Pay and Samsung Pay.  This puts you on top of the mobile revolution.
Mobile app with swiper or chip-and-pin device
Real time reporting and analytics anytime, anywhere
Your funds are deposited same day or next day
Available on Apple iTunes or Google Play app store
Chip-and-pin and debit payments with Ingenico iCMP
The Ingenico iCMP device connects to any smart phone with bluetooth and allows you to take chip-and-pin, tap, swipe, and even debit transactions. This means full mobility while keeping your rates incredibly low. This is a fully secure, EMV certified device ready to keep sensitive data safe.
Mobile swiper for speedy transactions
You can also attach the Ingenico RP457c swiper. This device connects to your smart phone by plugging it into the audio jack or the Apple Lightening jack on some iPhones. Swipe your credit card with the magstripe or manually key transactions into the app. The beauty is that you can even tap-to-pay with credit cards. Fast and ready to take any credit card payments. Credit card data is fully encrypted and never stored in the cloud for security.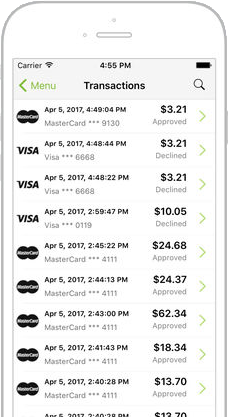 Real time transaction reporting
A single platform that holds all your payment information, transactions, and customers. Make smarter business decisions with this data at your fingertips. All transactions are real time and you can view and manage all your transactions. Conduct refunds, authorizations, and sales. 
Customize email receipts for your brand
Email receipts are customizable to your branding and allow you to connect with your customers and promote feedback, future events, rewards, and sales. After a transaction, email receipts go to your customers inbox or you can print them using bluetooth printer.
Get started with accepting mobile payments
We can get you up and running within 24 hours. One of the simplest and flexible ways to accept credit and debit cards.