Moneris is a large payment processor and acquirer based in Canada. It offers the full solution for businesses to accept credit cards and debit cards. This payments industry overview will give you more information on how payment processors and acquirers work.
Is Moneris the largest payment processor in Canada?
Is Moneris a payment gateway?
Moneris has a payment gateway as one of its products it sells to businesses. The Moneris payment gateway is built for eCommerce businesses to allow for online shopping.
Moneris charges a fee of 2.65% per credit card transaction that are swiped, tapped or dipped. There is a fee of 2.85% + $0.15 that applies to card-not-present transactions. The Moneris PIN pad monthly rental fee is $19.95 .
Also, you may have limits on your monthly credit card transaction dollar volume . If you exceed the amount, Moneris may hold your funds. 
What products does Moneris have?
Moneris has a large range of payment products including payment terminals, point-of-sale systems (POS), payment gateway for online shopping, and other products. 
Who are Moneris competitors?
The Moneris competitors include most payment processors in Canada, both large and small. Moneris is a large payment processor and targets businesses all the way from the small farmers market single-ower business to large multi-national corporations. This means they compete with any payment processor that focuses on a niche. 
Some of the top competitors of Moneris include the following payment processors in Canada:
What makes a payment processor the best depends on what you're looking for which might depend the the type of product you need, the rates, or customer service. You can read this if you're looking to cancel your Moneris merchant account.
Is Moneris a good payment processor?
Moneris is certainly a large payment processor, but that does not mean it is the best. With 350,000 customers, they are doing something right. They do have an unfair advantage with new customers constantly coming from the owners, which are two of the largest banks in Canada.
When you read reviews about Moneris, they are generally average to below average in ranking. You can see the Moneris reviews on Google from their customers.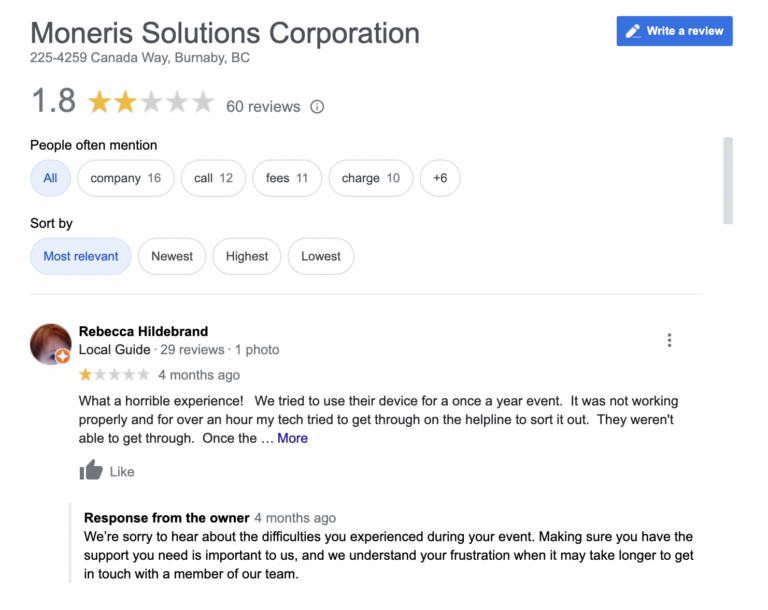 Does Moneris have cancellation fees?
Many merchants that use Moneris claim they have a cancellation fee. Typically the cancellation is a $300 to $500 fee over a three-year period. You can read more about cancellation fees.