This article is about helping you get the best POS system for your business. A POS system (point-of-sale) is the software and hardware allowing a merchant to enter in product or services, calculate the itemized payment amount and taxes, accept the payment, and produce a receipt for the customer. Other functions of a good POS, depending on your business needs, involve managing inventory, schedules, employee permissions, reporting, payment processing, and more. 
There are many different types POS systems, but we're referring in this article to a feature-complete point-of-sale for retail, restaurants, and services businesses.
There are many POS companies in the Canadian and American markets like Talech POS, Lightspeed, Vend POS, Clover, Shopkeep, and many more. These are all great POS systems. Much of the choice comes down to personal preference because payment hardware has become very advanced to the point that hardware is not the problem in payment processing. They're secure, reliable, and work well. 
Choosing the best POS system for your business type
Choosing the best POS system for your business primarily depends on the type of business you have. Each business has different needs. For example, the most typical feature sets are based on the following three industries:
There are also many features and capabilities that are common across the three industries. This includes POS reporting, employee management, high security (i.e. EMV) debit and credit card processing, online payments, and great customer service.
POS Hardware: POS stands, receipt printers and more
POS hardware is the set of all devices that make a point-of-sale software work at checkout. You may not need every piece of hardware, for example, barcode scanners, but these are the typical options you'll see.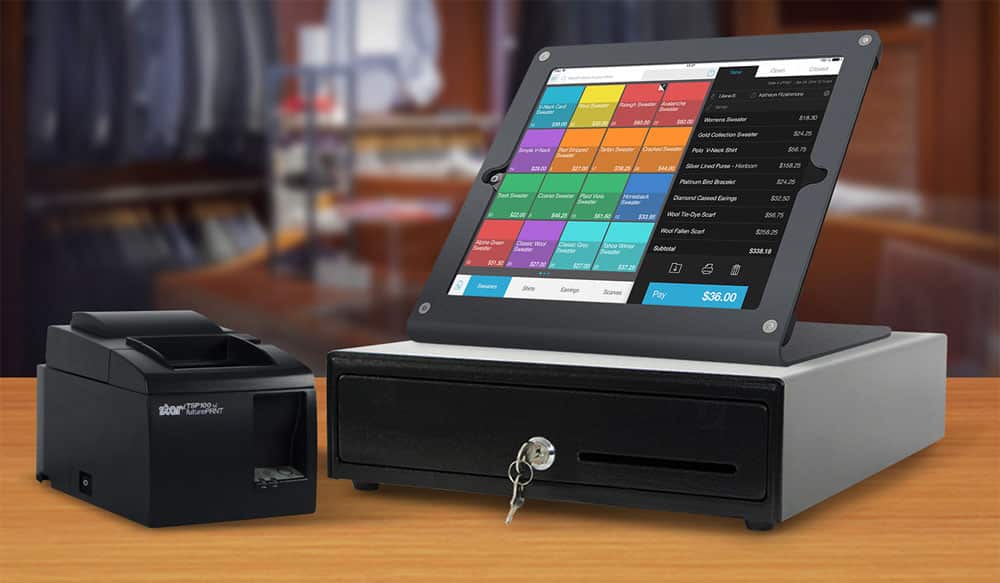 POS monitors or touchscreens
Touchscreen monitors, iPads, and Android tablets are becoming very popular for brick and mortar stores and restaurants. They are relatively simple to use and affordable. However, some POS systems just just a typical computer screen and keyboard.
There are a range of credit card terminals that can be standalone or integrated into the POS. Terminals accept the payment from credit cards or mobile devices (contactless payments) and connect directly to the payment processor and banking system.
Credit card transactions are growing in popularity while cash transactions are decreasing. However, cash payments are still an important part of smaller sized transactions, where a cash drawer is needed. They can be integrated to a POS so they open based on transactions.
Although email receipts are growing in popularity, there is still the need to print receipts. In this case, receipt printers are needed. Thankfully, the receipt paper is quite standardized at 3 1/8″ thermal paper rolls.
A barcode scanner makes the checkout process faster in any retail storefront by reading the products' barcode or UPC. They connect directly to your POS software so you don't need to manually enter the products at checkout.
How much does a POS system cost?
For retail businesses or restaurants with one location and a single register, the software cost can range between $50-150 per month. For larger retail and restaurant businesses with multiple locations and complex needs, you can expect a POS system to cost $100 to $500 per month, per location.
The cost also depends on the various amount of hardware options that are needed, such as monitors, card readers, tablets, receipt printers, barcode scanners, and more.
We can give you a full breakdown of the costs and help choose the hardware and software you need. Our recommendation is to generally start small and build up as you learn your needs. As you can read from our mission, our goal is to drive down the price of payment processing, including the cost of POS systems.
Where do you buy a POS system?
Buying a POS system can feel like a complex process. In the end, it's very simple if you're dealing with an experienced company. It is possible to piece the various components together yourself, but you'll want to be very careful that the hardware components and software work seamlessly together.
The most common, and easiest, places to buy a POS system is from 1) a payment processor like Clearly Payments, or 2) a POS hardware vendor. Merchants tend to prefer a payment processor because they handle the end-to-end process to ensure that the POS hardware, software, and payment processing is fully integrated and reliable.
The Clearly Payments recommended POS system is the Talech POS. It is full featured and built for restaurants, retail, and services businesses. It's reliable, simple to use, and powerful. We'll take care of every step  from choosing your features, setting it up, and implementing the payment processing.
Get the best POS system while
reducing your payment processing fees.