There are specific needs in dental credit card processing that we have seen as we've worked with many dentists. First and foremost, low-cost is critical. Reducing cost is the mission of Clearly Payments. Secondly, dentists need the flexibility to take payments that make their patients comfortable: secure, quick, and low contact.
Low cost dental credit card processing
The desire for inexpensive credit card processing is not specific for dentists, however this is one reason why dental offices have been moving to Clearly Payments. We specialize in providing low-cost payment processing along with world-class technology. We've even been able to beat the negotiated rates dental associations have secured by as much as 20% and even more.
We have set up a low cost company structure to be able to pass on the savings to dentists. Virtual teams, word-of-mouth and referral marketing, and payment technology partnerships all give us the ability to charge less than a typical payment processor. Our mission plan tells it all.
Once a dentist switches to Clearly Payments, they do not leave. Other payment processors cannot match the price. It is incredible to think that the payment processing industry witnesses around 25% to 30% customer churn per year. This happens because 1) most processors gradually increase rates every six months and 2) payment processors try to reduce their operating cost by providing less customer support. Once the dentist realizes this trend, they switch. Clearly Payments has never increased a rate and doesn't reduce the ratio of customer support staff. That's why dentists stay: low cost, great service, world-class payment technology.
"I've been looking into ways I can save on costs in my dental practice. I came across a company in Canada called Clearly Payments, through a dentist friend. They offer transparent fees and monthly subscription costs or cost plus depending on what is most beneficial for the business. It will save me about $400 a month!"

- Dentist in Vancouver, Canada
Flexible ways for patients to pay at the dentist office
Dental credit card processing needs to be able to accept payments from their patients in ways that offer speed, security, and low contact. Below we cover some of the ways dentists have been accepting payments from their patients.
A self-serve payment page on your website gives convenience to patients
A self serve payment page gives utmost flexibility to your dental patients by allowing them to pay remotely from their home over their computer or mobile device. Once the payment is complete, a branded email receipt is sent to the patient. This is a simple and low-cost way to implement payments with no payment hardware needed. This has become very popular with efforts to practice social distancing in payments. These are very simple to implement and we help you along the way.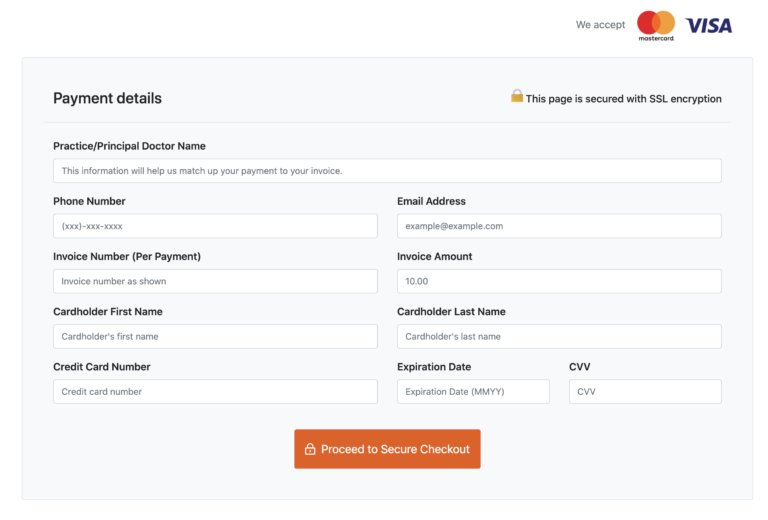 Send email invoices or create payment plans for dental patients
Dentists have also started to use email invoices and payment plans for their patients. The invoicing system lets you manage your patients and their payments quickly and simply. You can securely store patient and credit card information, automatically send reminders, and be notified of overdue payments. Payment plans lets you create automatic recurring payments on customized schedules for repeat patients. Payment plans are a new and innovative way that dentists are changing the game for patients.
Take payments over the phone
Credit card machines or a virtual terminal easily support taking payments over the phone. With a few clicks, you are taking payments securely. The virtual terminal lets you securely store patient contact information and credit card numbers to speed up the payment process for repeat patients. Custom branded receipts maintain the brand of your dental practice.
Taking payments at the dental office in person
Taking payments at the office is a critical and standard method for dentists to take payments. This includes either standalone credit card machines, a virtual terminal, or integrated payments directly into your practice management software. These are all options that are made available through Clearly Payments.