WordPress is the most popular platform to manage content on websites. If you've chosen WordPress, you're in good hands. Hundreds of millions of other websites run on WordPress, including websites with WordPress payments.
WordPress payments and online payments are growing fast
Online payments has been growing dramatically since the 1990s. With the COVID pandemic in 2020, people started to do more online shopping. Consumer habits have evolved. Since COVID, more than one third of consumers shop online weekly. Online shopping, therefore online payments is growing.
Most businesses are now thinking of new ways to incorporate online payments into their business. One of the great things about WordPress is the vast amount of plugins, including WordPress payment plugins.
It's simple to start accepting online payments in WordPress
WordPress and many other web platforms have made accepting payments simple. You don't need to be a developer to deploy payments. It makes it easier to have a bit of technical knowledge and a good understanding of how to use software, but it's not critical.
All you need to get online payments going with WordPress are 1) a merchant account, 2) a website running WordPress, and 3) access to the ability to install WordPress plugins.
Get a merchant account to start accepting online payments
You will want to have a merchant account before you begin. If you are processing less than $100,000 per year in credit card payments, it's easiest to get a Paypal or Stripe account. You don't get an actual merchant account with these, but it's fine for starting out. Paypal and Stripe accounts are called aggregator accounts where each merchant account is shared with many other merchants. You can read more about aggregator accounts if you wish.
If you're processing more than $100,000 per year in credit card processing, it's best to get a merchant account. You'll get higher levels of service and cheaper payment processing rates. We can get you started on your merchant account and have you ready to go in less than 24 hours. 
Get the right WordPress payment plugins
One you have a merchant account, you'll want a WordPress payment plugin. The plugin you get depends on how you want to accept online payments on your website.
The simplest implementation is to have a single payment page for your customers such as below. This is an example of a payment page on the website of a doctor's office.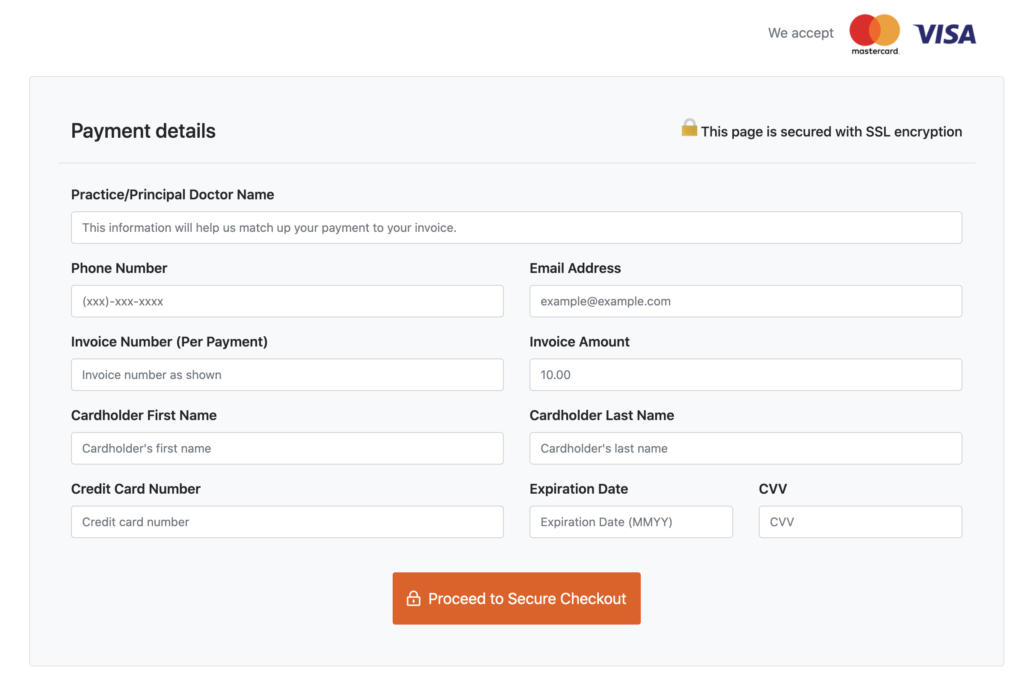 To get this going, you can deploy the Ninja Forms WordPress plugin and the WordPress payment plugin that works with Clearly Payments. We can fully help you deploy the online payment page if you want to be guided.
The second solution is to have a full eCommerce site with online payments so customers can choose products, add them to their online shopping cart, and checkout. The way to get this going is to install the WooCommerce plugin and the WooCommerce WordPress payment plugin that works with Clearly Payments. Again, Clearly Payments can help you get up and running with this too.